How to make prospective residents queue to live at your property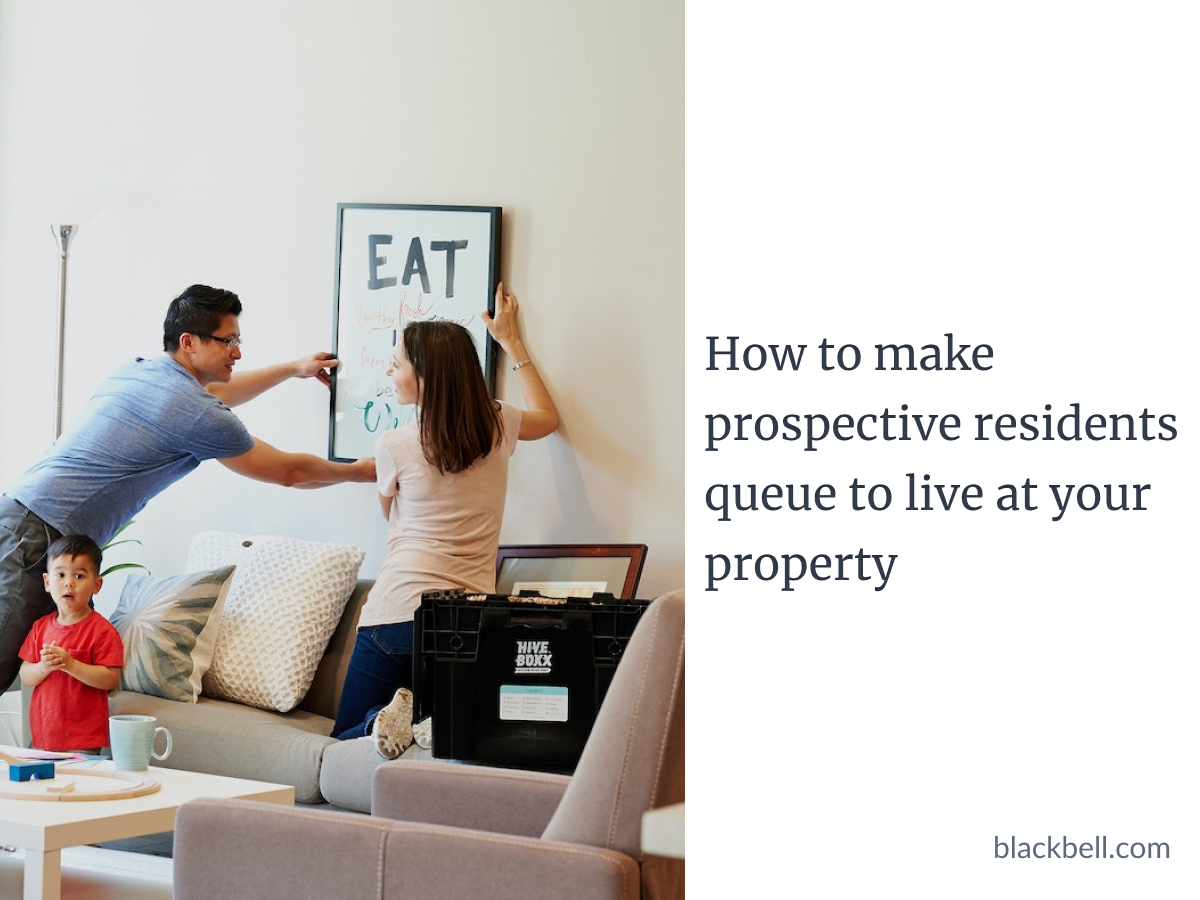 Vacant apartments, low occupancy levels, and having no list of prospects are signs of a failing multifamily business.

Today I am sharing powerful strategies to attract new residents to your multifamily housing.

In fact, these strategies are not yet well-known, and if you act fast, you can build a definite competitive advantage over your competitors.

The best part?

You can implement these strategies within a few weeks without huge investment or busywork.

So, let's dive right in and see how as a property owner, investor, or operator, you can transform your multifamily property into a sought-after rental property:


---
1. Begin with the tenants
Happy tenants are your most significant growth drivers of multifamily buildings.

They stay longer, spread the good word, and help you attract new residents.

Hence, to attract new residents in multifamily properties, you should begin by resident retention and elevating your current residents' living experience.

Today's tech-savvy residents , with their focus on convenience and lifestyle, prefer digital over physical. They want everything available with just a few taps on their screens, voices to be heard, and accepted ideas.

Residents' preference for convenience means that it's no longer about just offering run-of-the-mill facilities. Residents want the complete end-to-end experience of discovering, booking, and using new experiences to be smooth.

Your state-of-the-art fitness center will remain underutilized if there are no qualified trainers or no easy way to book preferred timings. Tenants will also stay away from it if you have invested in weights and machinery while they are interested in Yoga.

Community spaces will remain empty if they do not cater to the changing needs of the residents.

Suppose your residents demand a co-working space with high-speed internet. Still, you can't take any action because you have no easy way to collect their suggestions other than using already cluttered email or over-burdening your staff with manual processes. In that case, you should expect tenant dissatisfaction, churn, and vacant units.

The saying "more is better" is no longer valid. Adding more and more amenities while ignoring improving the end-to-end experience will lead to underutilized amenities and low investments.

Not having actual data is another hindrance to elevating resident experience.

You have a hunch that the on-site gym is not being used as much as you initially thought. But you have no real data on usage trends, no idea how many residents use the gym, how often they use it, and what improvements they are suggesting.

Your on-site staff has useful insights into residents' preferences, but without a system to continually share helpful information and data, you never gain those insights to make better decisions.

To listen to the residents' changing demands, track the amenities' usage trends, gain full visibility into the property operations, and take actions to attract new residents, you need to move away from the manual processes and take the help of the smart apartment technology.

Technologies like property management platforms that consist of a resident app and an admin app can empower you to provide experiences that your tenants and prospects value.

The acceptance and adoption of these experiences depend on ease-of-use and proactive communication. With the use of renter-friendly technology, you can make adoption of these in-demand experiences smooth.

The earlier you can integrate technology-enabled experiences in your offering, the more attractive your property will be to your prospects. It will also help realtors to close deals quickly with prospects and help you improve occupancy levels.

The delight of your current residents should be the core pillar of your apartment marketing strategy.

In the following sections, I will discuss how to transform your multifamily apartment complex into a sought-after rental property with apartment technology.
---
2. Exclusive Experiences
Exclusivity creates a desire to belong.

Personalized and thoughtfully curated experiences can elevate resident experience far beyond traditional amenities that once dominated but largely remained underutilized.

Now it's not enough to offer club rooms, lounges, pool, gym, and fitness centers. There is an immense need to activate these places with real experiences that your residents can enjoy and have exclusive access to.

Exclusivity builds a brand value that prospective tenants feel attracted to.

And you need not limit exclusive experiences to just on-site amenities.

For instance, you can tie-up with nearby shops, restaurants, and vetted local vendors to provide exclusive offers, deals, and discounts to your residents.

By providing discounts in the best bar in your area every Thursday exclusively to your residents, you can quickly win residents' loyalty and attract new prospects. The fact that such offers are only for your residents will make your property stand out. Local businesses will benefit from increased sales.

You may come out with offers or voucher codes, especially for your residents to avail those offers with local vendors. However, there is no guarantee that those offers are not being availed via outsiders. And your marketing efforts could cost you more.

In such a case, a resident app can prevent your deals from outsiders to avail offers, which you agreed with local businesses for your residents only. You can make it compulsory to grab an offer with the app only. Since the app will be used by residents only, there is no chance of getting outsiders in the way.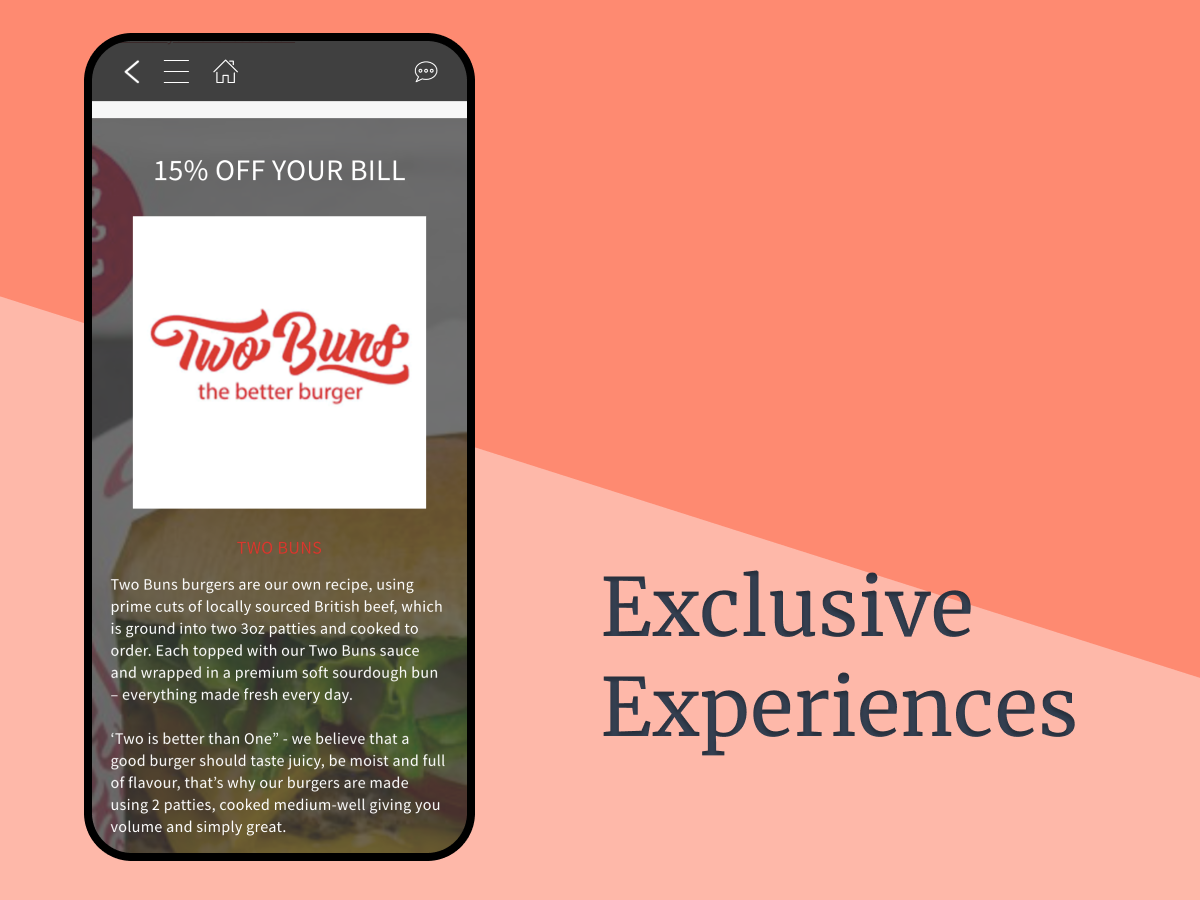 They can see the banners of the offers exclusive to your apartment residents. And you should show them, because who knows which outsider can be your next tenant by seeing these extra benefits.

But merely organizing interesting activities is not enough. You need ways to communicate about them to your residents, accept bookings and payments, track their participation, and feedback. The better you manage these processes, the better will be the tenant experience.

Sending back-and-forth emails, updating excel sheets, and sending messages through different messenger services will quickly create confusion and barriers to a seamless experience.

On the other hand, a resident app will digitize, simplify, and streamline all such processes. You and your residents no longer have to juggle between multiple platforms and manual processes.

Delighted residents lead to curious and interested prospects queuing to sign the lease as and when a unit is available.
3. Personalized Offerings
Thoughtful personalization builds long-lasting relationships.

And if they do not have high costs, you should not shy away from offering personalized services to your residents.

Sending a box full of chocolates with flowers on their birthdays and anniversaries will make residents cherish the experience for life. It is a small investment with the potential to create long term resident loyalty.

You might be wondering how your on-site staff can remember the birthdays and anniversaries of each resident? And timely manage the operational overhead of arranging surprises at the right time.

It sure is a tough job, more so if you rely on paper or excel sheet based processes.

However, with a resident app's help, receiving automatic notifications a day or two before important dates is a breeze.

And you can automate the process a step further by connecting the selected vendor with your digital platform to automate the delivery of gifts to your resident's doorstep without burdening your staff at all.

You can even use residents' lifestyle preferences captured on the resident app to select appropriate gifts and send personal notes to make the experience memorable to them.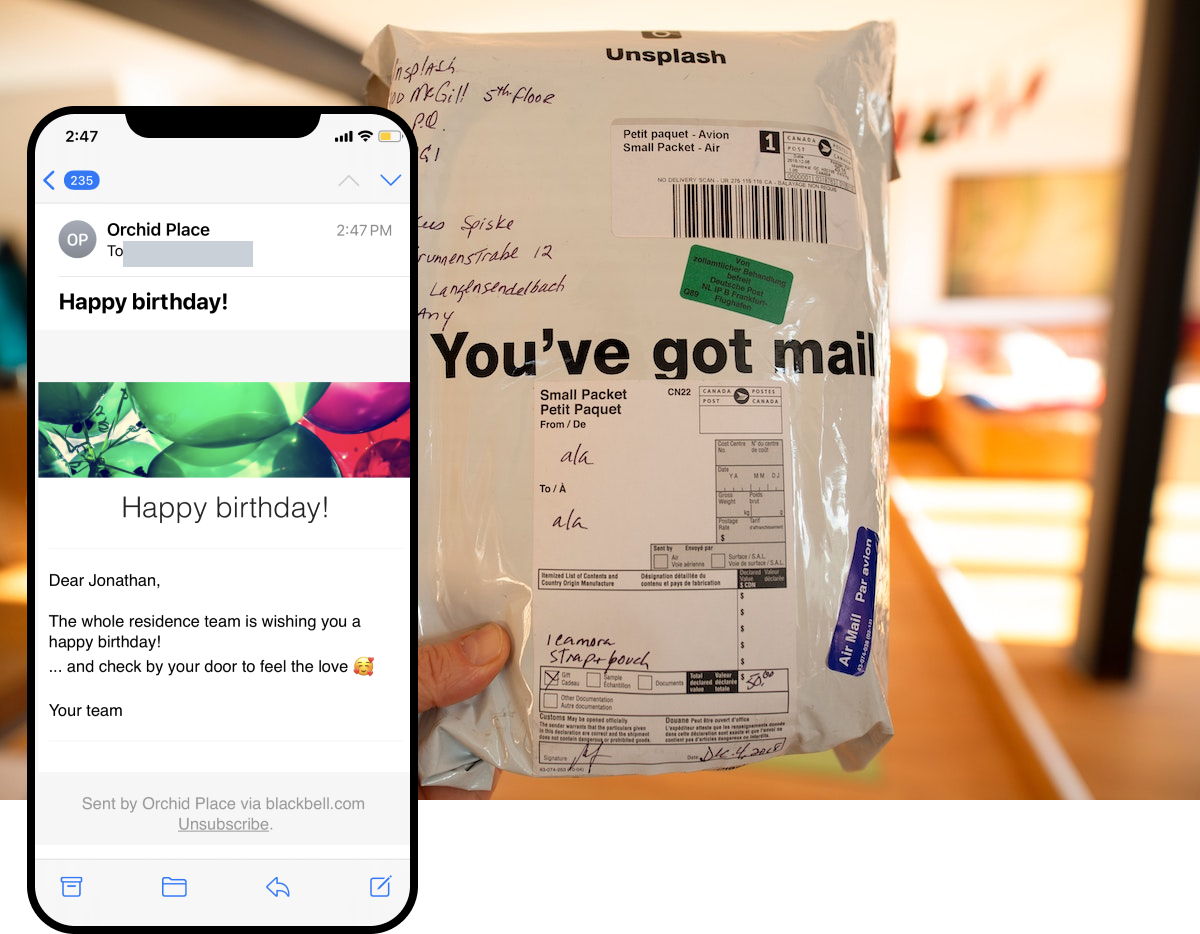 Personalization, with the help of technology, can also be adopted while offering day-to-day services. Taking care of simple things like providing maintenance outside the work hours, sending a text message or email for communication while residents are at work instead of calling, and remembering their communication preferences, can help you make a difference.

Not only these small investments will help you retain your residents longer, but these will also attract more prospective tenants to your waiting list. Since people are now more social, they can't stop themselves from sharing exciting experiences on their social media with their friends, thereby helping you build a proud brand.

4. Perks
Offering discounts and perks to prospective residents is the easiest way to fast track leasing signing.

Within your resident app, you can create an exclusive online area for realtors and detail various perks they can offer to their prospects. Property managers can keep these details up-to-date with just a few clicks.

For example, a prospect who has toured the property, appreciated the apartment, is comfortable with the location but has second thoughts about signing the lease for some reason can easily be motivated to finalize the deal if the realtor can offer a flat discount.

And it's not just a discount; you can come up with perks like free pet care credits for pet owners or free UBER credits every month on lease signing.

Such perks are best used when offered just before lease signing to help prospects make a decision.

You can design such perks for existing residents and make them available over your resident app to appreciate good conduct like paying rent on time.
5. Smart Services
Improve day to day services to cement your property's place as the top choice of the renters.

And with the help of technology, you can do so without incurring extra costs while freeing up your staff.

For instance, using powerful AI techniques, you can automate common residents' queries over chat and reduce your staff's workload. With research suggesting Millennials don't like to make phone calls, such a chat-based system will be immediately accepted by your residents. It also helps your tenants to get their queries solved immediately.

Without an understanding of technology, someone might think that technology will result in a disconnect with the resident.

However, the truth is, technology can help property managers to proactively communicate with the residents, reduce their workload, and deliver better services.

For instance, you can make the chat-based conversation come alive by providing personalized solutions to residents' problems with artificial intelligence's power without any extra efforts or cost.

You can further personalize the experience by sending location-based notifications. Like sending messages of their arrived parcels when they enter the property, notify them of upcoming concerts at the central lounge when they park their vehicle, and sending personalized offers and coupons the moment they enter the gym.

Security is another aspect of multifamily living that needs a tech upgrade.

CCTV surveillance and smart parcel lockers are key upgrades that residents like. You can integrate these with your resident apps. Every time there is a parcel waiting for residents, they will receive automatic notifications with images of their parcels.

Smart locks with customized permissions is another valuable upgrade that you should consider incorporating in your multifamily property.

With a smart lock facility, your renters can give customizable user permissions. For example, providing limited area access to a contractor or giving temporary digital keys to their neighbors for some urgent work while they're stuck in traffic. Another case is of their visitors, who can get direct access to the apartment instead of spending hours in waiting lounges.

And with the help of your resident app, a smart lock system can be easily managed.

If your smart lock system comes with its own control app then you can quickly add a link to it inside your resident app. Residents will have access to various such independent apps via their resident app.

Access to services like valet parking and car retrieval right from their resident app can offer convenience and safety, especially to elderly residents. If your app is payment ready, your staff can even accept micropayments for such value-added services that you can virtually keep track of.

These small payments, when accounted, can add to your property's value. However, without an easy digital payment system, you might find it difficult to track them.

All services, updates, and value-add, right within one app makes it easy for residents and your staff to use the app over manual processes.

Despite great managerial efforts and up-to-mark maintenance service from your staff, sometimes there may rise unwanted issues. There might be a water problem in one unit or an electrical problem in another. In such situations, you can broadcast updates to your residents about the inconvenience caused and assign the job to your maintenance worker, all from your resident app.

You should select a flexible resident app that can provide various functionality, either natively or via integrations.
6. A Reservoir filled with quality leads
Now, in addition to your brand-building efforts, you also need to create a smooth process for your prospective tenants to connect with you, tour the property, and show interest in leasing a unit.

It is a crucial step; any bad experience during this stage will result in the loss of a lead and waste your brand-building efforts. Therefore, you should go all out in creating an impressive experience for your prospects.

Prospects should be able to access your resident app from their browser without having to install the app on their phones. Your app's non-members area should focus on the prospects and contain information to address their top concerns.

To make the experience better, prospects should be able to tour the property virtually, view the inside of apartments, and get a glimpse of amenities right from your resident app.

You should proactively remove all complexities in the leasing process.

For the prospective tenants, selecting and leasing an apartment is a big decision that will affect their lives for months to come. It is a rational, as well as an emotional decision. Hence, you should provide all the necessary information, text, and visual and make them feel welcomed.

And when the prospects have all their queries answered and their emotions excited, you need to capture their information, add it to your waiting list and turn them into a qualified lead.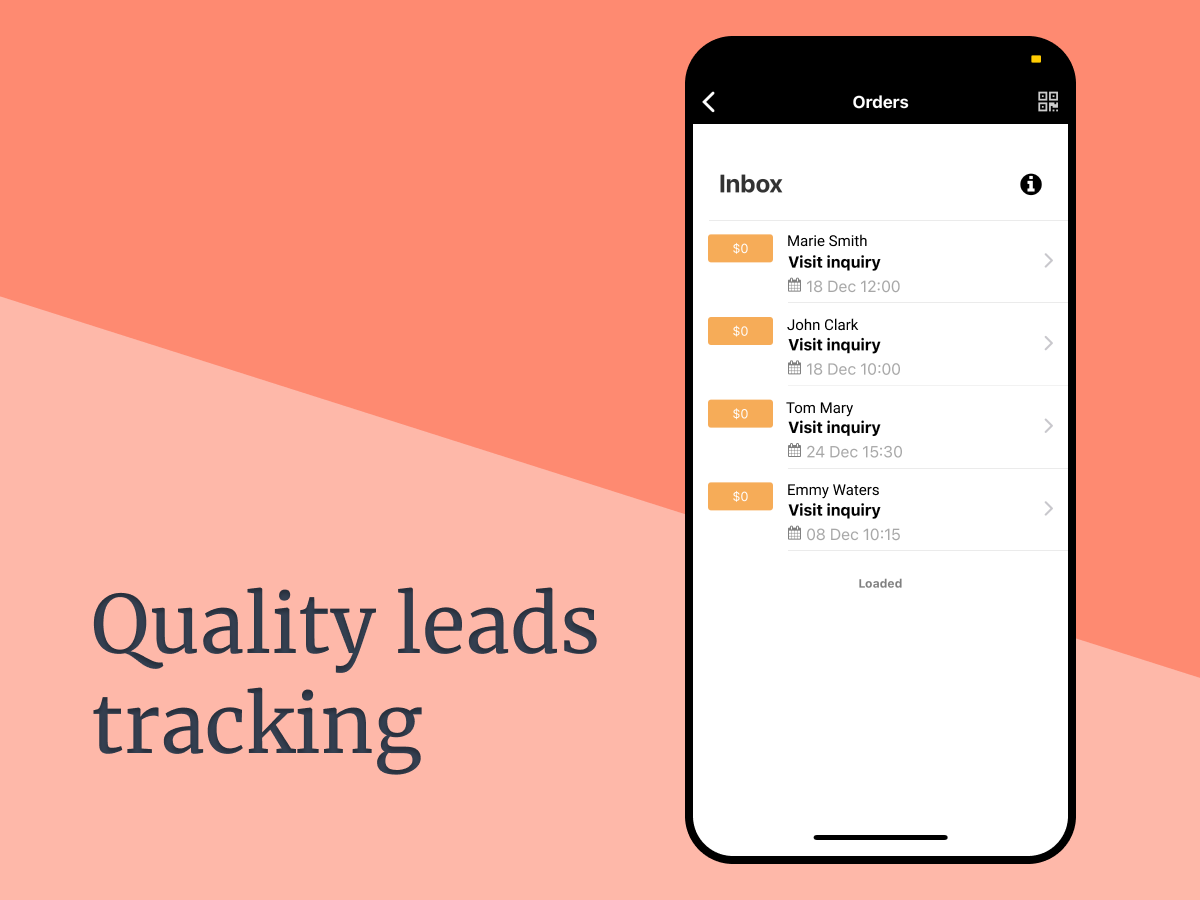 Do not make the mistake of adopting a paper and pen-based process for this. Manual or excel sheets based processes requiring calls, back-and-forth emails, or physical visits can quickly ruin the prospects' experience and make it difficult for your staff to stay updated about lead status.

On the other hand, on your resident app, you can use customizable forms and auto-emails to shorten and smoothen the process of lead capture.

And your staff will have all the leads at their fingertips, ready to be contacted.
Conclusion
As residents are fast adopting technology in various aspects of their lives, it is about time for multifamily owners, investors, and operators to begin digital transformation of their properties. The need of the time and the one who responds to it in time will win the race.

You should consider some common issues in building an app on your own or hiring any company to do it for you. Things like maintenance of the app, customization, usability, third-party service integration, and scalability are some issues that, if not appropriately chosen, may cost you more in the long run.

For the highest benefits, you must choose an app that is easy to use, fully customizable as per your requirement, and flexible enough to adopt technological advancement in the future quickly. The other side of a resident app solution is an admin app that must track and handle full property operations and analytics for quick decision making.

It is an investment that can give returns in a few months. And with features like a marketplace, your resident app can pay for itself.

Blackbell offers powerful resident and admin apps for multifamily properties. To stay ahead of competition, turn challenging times into new opportunities and attract new residents, learn how the Blackbell's real estate team can drive your properties' digital transformation. click here to book a demo.
Ready to transform your property into a place residents can call home?